The Tokyo Bay Grand Fireworks Festival (東京湾大華火祭 toukyou wan dai hanabi sai) is one of the last shows of the summer as well as one of the biggest. This year 12,000 fireworks were launched from Harumi Wharf Park (晴海埠頭公園 harumi futou kouen) and from a barge in the bay near the park. It was quite a spectacular show.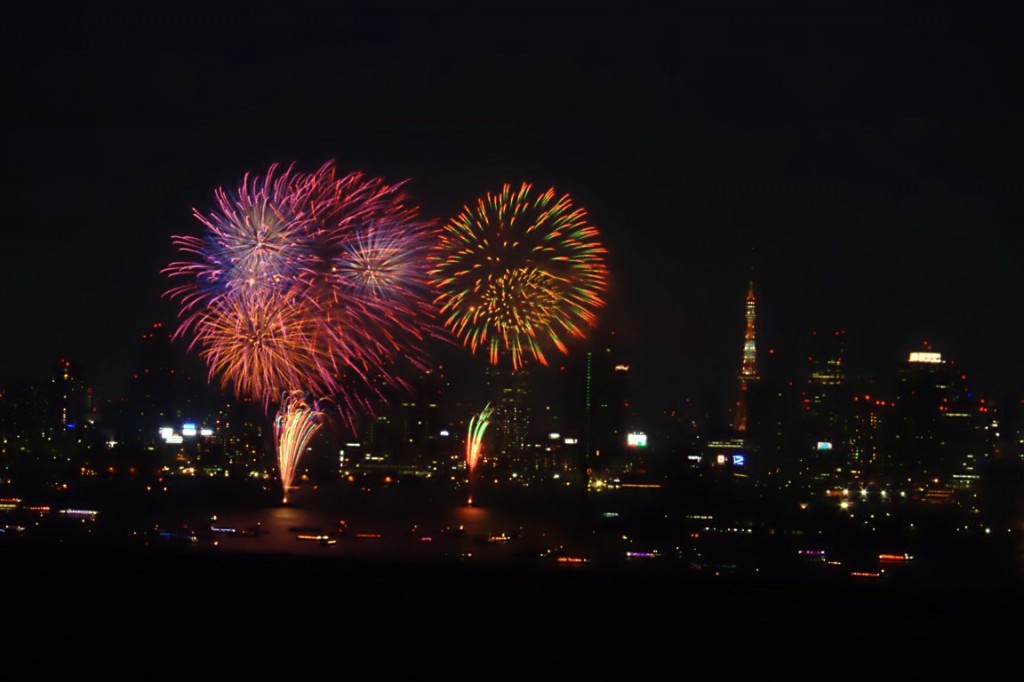 I was planning on checking out the fireworks myself, but it turned out that Austin had a friend who had procured a good vantage point. So I left Sugamo with Austin, Aimee, Laurel, Richard, Matt, and a Japanese friend of ours, Mari. We took the Yamanote line across town to Yurakucho station (有楽町駅) and met up with group of folks who had also been invited. Then we got on Yurakucho subway line and rode it to Toyoshu station (豊洲駅). From there, we met our host, Rich, and then took the Yurikamome line (新交通ゆりかもめ shinkoutsuu yurikamome) to Odaiba (お台場) and got off at Ariake-tennis-no-mori Station (有明テニスの森駅). Odaiba is a large artificial island in Tokyo Bay, across the Rainbow Bridge from central Tokyo. Originally built for defensive purposes, it has since become a tourist destination.
After getting off the train, we stopped at a convenience store to get some food for dinner. The 19th floor apartment that we borrowed for the evening belonged to one of Rich's friends. His friend owned the place but had just bought a new place in a different building, so he let us watch the fireworks from there before he started renting it out. However, since he had already moved out, the place was completely empty and we had to either stand or sit on the floor. It did have a very good view of the bay, though.
After a couple of hours of discussing topics ranging from photography to music and anime in an interesting combination of broken English and broken Japanese, we ate some dinner and then got ready for the fireworks show.
At an hour and a half in length, the show was definitely worth the wait. We weren't particularly close, but I still managed to get some good pictures. Some of the fireworks they set off were pretty powerful and we not only felt the blasts but heard them echoing around the bay for some time afterwards. Quite a few of the fireworks were amazingly large, too. A couple of the biggest ones released small fireworks as they went up before lighting up downtown Tokyo with a giant ball of glittering sparks hundreds of meters across.
The only gripe I had about the trip was not being able to use my new wide-angle lens to take pictures of the fireworks. We were simply too far away. However, I'm sure I'll find a good opportunity to use it. Perhaps at another 花火大会 next summer. I know there will be some big ones up in the Miyagi prefecture next summer and I certainly won't be passing those up if I can help it.