Today I went on a japanese cultural outing put on by some JWU students. We went to a shopping district in Ueno (上野) and from there went through Yanaka (谷中) and Sendagi (千駄木) to visit the Nedu Shrine (根津神社). Shitamachi (下町) refers to the physically low parts of Tokyo and the areas near the Sumida River (隅田川).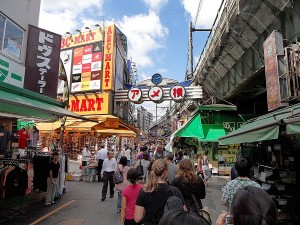 We started by getting off at the Okachimachi station (御徒町駅). We worked our way up through the Ameyoko (アメ横) shopping strip to the Ueno station. I didn't buy anything because I would have to carry it around the rest of the day, though I'll definitely have to come back at some point to check it out in greater detail.
After that, we got back on the train at Ueno and took it a couple of stops to Nippori (日暮里). From there we walked through Yanaka and Sendagi to get to the Nedu shrine. We passed a Japanese style cemetery near the station and a few neat little shops. After almost getting lost and almost losing a few people, we arrived at the Nedu Shrine. It's a small shrine, but it's still a very cool place. There's only one major downside to the location: mosquitoes (蚊 ka). And those Japanese mosquitoes are pretty nasty. The bites start itching almost immediately. Some people got more than 20 bites in the short time we were there. Definitely bringing some strong bug repellent next time.